Oliver Twist Chewing Tobacco
The House of Oliver Twist develops, manufactures and markets smokless tobacco pellets (mini-rolls) under the Oliver Twist brand. The product is used as an alternative to smoking tobacco.
IF THIS IS YOUR FIRST ORDER WITH US ON THIS PARTICULAR PRODUCT WE REQUIRE THAT YOU MAKE PAYMENT BY 'CREDIT CARD' ONLY.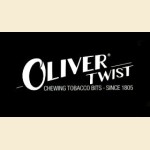 Showing 1 to 13 of 13 (1 Pages)