Romeo y Julieta Cigar Humidors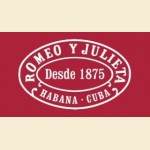 Founded in 1873, the "Romeos" are one of the most well-known and popular of all of the Havana brands. Over 40 shapes and sizes are produced under this brand, some of which are considered the very best in their size. Romeo y Julieta cigars have won gold medals worldwide for both taste and quality.
Romeo y Julieta's balanced aromatic blend of selected leaves from the Vuelta Abajo region make it a classic medium bodied Habano.
Showing 1 to 1 of 1 (1 Pages)